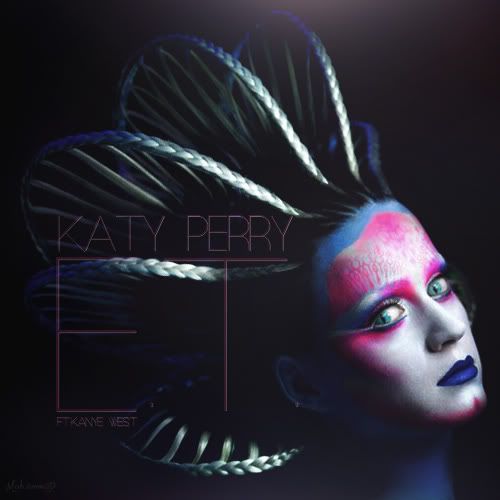 Thursday night
Katy Perry
performed her latest hit single,
'E.T.'
, on American Idol with featured performer
Kanye West.
'E.T.'
is Perry's 4
th
consecutive #1 single on Billboard's Hot 100, lifted from her Grammy nominated album,
'Teenage Dream'
. 
See Katy's performance below.
Kanye West surprised the audience midway through the performance by appearing on stage with Katy. The two together were awkward at best and lacked chemistry. Like the remix itself, Kanye's addition to the performance seemed cut & pasted, and not cohesive. Besides being accomplished songwriters, it's clear the only thing these two divas have in common are questionable wardrobe choices.  I love Kanye but I am not here for that fur vest attached to that leather jacket.  As for Katy, she donned a white, form fitting body suit, complete with pink LED lights, long cape and futuristic head gear. She looked like an android Cher/Lady Gaga hybrid from 3012. 
The bright side? Katy's vocals were fantastic, especially given all the flack she receives for her live showings. I am not 100% sure it was completely live or sung to a track but it certainly was not the studio version. Katy sounded confident, clear, loud and for the most part on key. Katy's extra runs on the "Boooooy…you're an alien" (@ 2:14) in order to accommodate the vocal layering was magic! Katy is a big voiced, vibrato-less belter with a delicately airy falsetto who's vocals don't always translate well live, nevertheless I appreciate Katy's commitment to always appear to sing live. 
'E.T.' is currently sitting at #2 on both the Hot 100 & iTunes chart. Will this performance be enough to propel 'E.T.' back to the top?