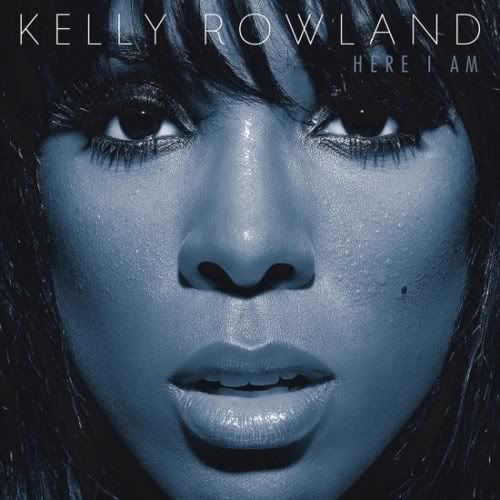 Kelly Rowland's 'Here I Am' was supposed to be her magnus opus, meant to thrust her out of Beyonce's shadow and into the spotlight. It was to supposed to establish her as a marketable artist with mass commercial appeal, outside of past girl group nostalgia. It was supposed to cement her as dance-pop's resident commander and dancefloor diva. Instead 'Here I Am' is a collection of b-side, hopeful-singles that fail to paint Kelly as a viable solo star. The 40 minute album boasts a mere ten tracks, six of which are over a year old, four bonus tracks and three co-written by Kelly herself. Featuring all-star productions from C. "Tricky" Stewart, Rodney "Darkchild" Jerkins and RedOne, it took two years to record 'Here I Am'. With that being said it's almost scary to believe that these were the best of the best.
The success of 'When Love Takes Over' gave Kelly, as well as Motown, a false sense of accomplishment and security to promote her as an electro-pop siren. They took the single's overwhelming success as a sign Kelly had finally "arrived", when in reality she was just an interchangeable production variable in the mix—"the female vocal".  Despite many singles being released in 2010, it was a very quiet year on Billboard and radio for Kelly. In a predictable change of direction: dance was out, urban was in. Resulting in a sonically disjointed body of work.
Unwrap the full review after the jump…
The LP starts off great with 'I'm That Chick', sounding like a track possibly offered to Britney Spears but turned down by Rihanna. An auto-tuned "Robo-Kelly" exudes confidence, delivering lines like "who don't need a compliment because [already] she know" in bratty defiance. Clearly the album's most obvious guilty pleasure, it's a bossy cut that begs for cosigning head nods and on beat hair-flips. When Kelly downshifts to the mid tempo 'Work It Man', things quickly lose steam. It's a sweet enough track but comes up short with it's repetitiveness and the unnecessary inclusion of Lil Play. After his verse it's hard to to keep listening let alone play it again.
The first home run of the album comes from 'Motivation'. Easily the jam of the year and the biggest hit of Kelly's career. 'Motivation' single handedly gave this era legs to stand on by remaining No. 1 on billboard for seven weeks and a mainstay on radio. Second single 'Lay It On Me' packs a bright melody and is laced with all the "eh, eh"' and "oh, oh" stutter effects that plague radio but it follows every dance-pop cliche of the past five years and comes dangerously close to sounding like a 'What's My Name' parody.
The heart of the album features productions from Rico Love, 'Feelin Me Right Now' and 'All of the Night'. Both sexy and sultry, they find Kelly in her new grown & sexy role asserting her independence and masturbatory sexual freedom. Things finally reach a fever pitch of pheromones on the lusty 'Keep It Between Us'. They're obligatory r&b album baby making music that prove Kelly to be an adequate singer with a highly likable voice if nothing else. Then comes forgotten first single 'Commander', which sticks out like a sore thumb compared to the rest of 'Here I Am''s mediocre offerings. Not because of it's awesomeness(!)…but because it serves as a reminder Kelly can actually produce a quality pop number. It has great company though, 'Down For Whatever', it's 'Commander"s unruly cousin that's just as equally badass. Perhaps a full dance album wasn't such a bad idea after all…
Kelly drops the ball in her timid approach to sing many of the cuts, seemingly afraid to open her crystal-clear soprano and push it's limits. She has a strong chest voice with a pleasant natural vibrato and a gospel feel, yet chooses to keep it at bay. Sure, she's not the most dynamic vocalist but to keep her voice "buttoned-to-the-top" for majority of the album does her no favors. Kelly's not-so-secret trick is to hide her pipes behind the melody.
The album as a whole is afraid to offend, specifically productions from Hit-Boy ('Lay It On Me'), Rodney Jerkins ('Turn It Up'), and StarGate ('Heaven & Earth') which are ineffective and hardly memorable (sans 'Motivation'). The mediocracy of their overall production value pales in comparison to other releases by these same producers so overtly, it begs the question: Did they purposely give her their throwaways and save their best for bankable artists? Probably. It would be advantages for Kelly to take a noticeable risk on her next LP to avoid yet another underwhelming release in the future.
The problem with 'Here I Am' lays mainly with it's interpreter. Make no mistake, Kelly's talents surpasses most, but her tendency to rest her laurels on fleeting moments of success leave her unable to fully slay the way a fifteen-year veteran should. Take the stalling of a second single or lack of promotion for 'Motivation' for example. She's focused on winning the battle instead of the war, however, with this album she's lost both. Throw up the white flag Kelly, this solo act just isn't going to happen. As the LP reached an anticlimactic close the listener faces the reluctant realization that Kelly Rowland is forever meant to play the background. Not everyone is meant to be a headliner and that is okay.
Tracks to download:
'I'm Dat Chick'
'Motivation'
'Feelin Me Right Now'
'Commander'
'Down For What Ever'
2.5/5