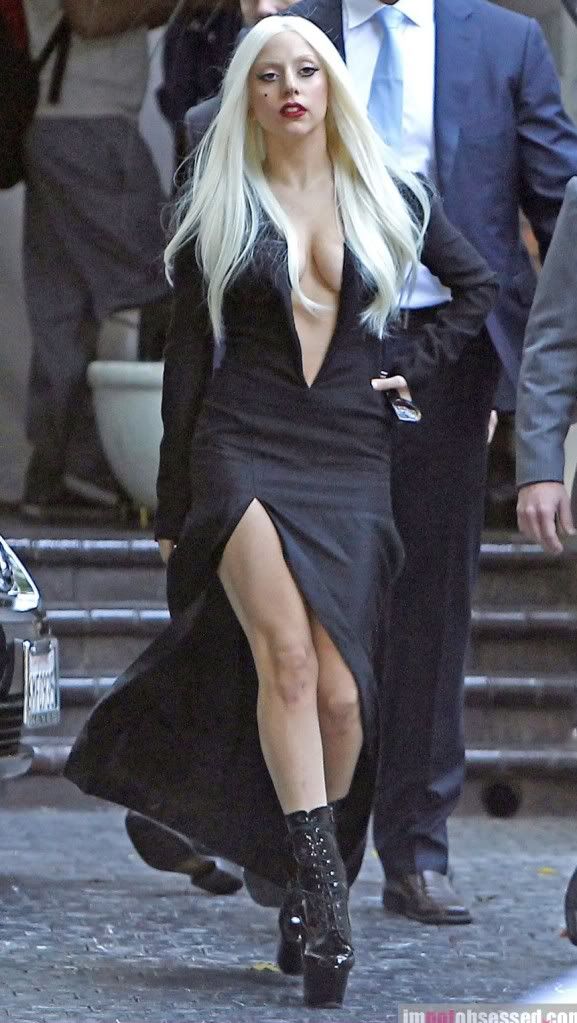 Photo of the day. Lady Gaga is slowly but surely morphing into her chart nemesis Christina Aguilera. Ya like? Photo source.

Brandy says she's had enough of reality television and has no desire to do any more. Is she serious? Reality shows, to some extent, have been known to raise a fallen celebrity's profile and when done correctly, they can give declining music careers a much needed boost. Both Monica and Keyshia Cole have released successful albums at the back of well-recieved reality shows. And sometimes as a celeb, when you lose your star power and you have children to feed, you have to weigh ALL options. Never Say Never eh? Speaking of Cole, allegedly, she thinks she's legendary enough to have her own biopic. If she's basing it off having a seven year career in the public eye, she may want to wait a while. I'm not knocking what she's accomplished so far in her career, but Mary J. Blige is much more honoury. Did you watch her Behind The Music episode this week? It shows a powerful biopic in the making and she's an actual legend.
Kelly Rowland's wigs probably weigh a tonne but not as heavy as the big fat lie she just told. "I'm not trying to sell sex!" she told the Daily News at her album release party on Tuesday night. So let's see, a striptease at The BET Awards, topless and naked poses for various photoshoots, a steamy music video and a very sexualised album does not constitute selling sex? Many would beg to differ but I digress. Click here to watch some behind the scenes footage from her 'Here I Am' artwork. Last but not least, Live Nation has just announced that Calvin Harris will appear as the special guest on Rihanna's record breaking 'Loud' tour this coming autumn. "Calvin is the perfect fit for the Loud tour. He is going to bring something unique and fun for the fans" says Rihanna. I hope she keeps him on a tight leash like she did Perez Hilton. Rihanna's close pal Katy Perry certainly couldn't when he backed out of her tour at the last minute.
Stay tuned for more tidbits…