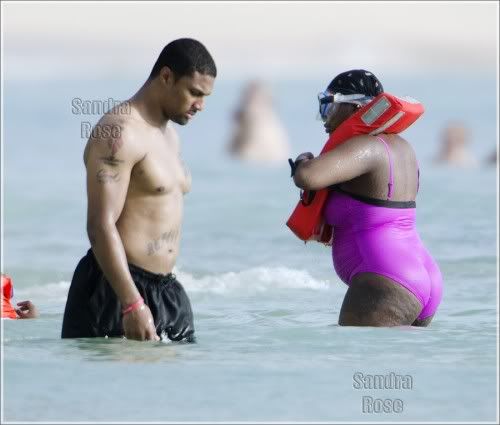 Fantasia with Cook in Barbados on June 27th.
Photo source.
Fantasia Barrino has just announced her pregnancy. Barrino delivered the news at the opening of Riverview Apartments in Jacksonville recently. This shocking admission comes after confirmation that she had already aborted Antwaun Cook's baby before trying to commit suicide last year. A few weeks ago during a Barbados vacation, the pair had shown they were very much back on, and let's just say, her very noticeable weight gain was cause for much online banter (see photo above). The suicide attempt came after damaging revelations she took away a married man from his wife and children causing Cook's wife to sue the 26-year-old for her homewrecking activities. So infatuated Barrino was with her married lover, she went and had his name tattooed all over her shoulder and sang all about her homewrecking ways in a leaked song titled 'Lucky'. The Kandi Burruss-penned song was recorded during her 'Back to Me' sessions but Burruss kept it for her own album 'Kandi Koated' instead.
Seemingly, it appeared Barrino came to her senses, dumped Cook and went on to release a successful new album. Sadly, we can't help who we fall in love with but when you're successful, why lower yourself? Call me thicker than lumpy custard but pregnancy hadn't even crossed my mind because I would not have imagined she'd be so wreckless for a second time. I'd just assumed she horrendously let herself go on purpose and ate several feastings of "Collard Greens & Cornbread". I know that she needed to gain major weight for her next movie role as gospel singer Mahalia Jackson. The biopic is said to be based on the 1993 book 'Got to Tell It: Mahalia Jackson, Queen of Gospel'. Oh well, at least her and label mate Alicia Keys can swap notes now. Watch the singer's pregnancy announcement below. SMH.