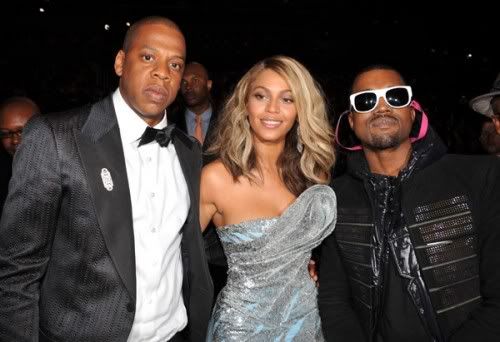 "Lift off we have a lift off!"
While sitting comfortably on their respective thrones, Jay Z and Kanye West team up with the Queen of them all for 'Lift Off', lifted from their joint venture 'Watch the Throne'. Very happy to report the full track does not disappoint from the brief snippet released last week. Beyonce opens with, "We gonna take it to the moon, to the stars, how many people you know can take it this far?  I'm supercharged about to take this whole thing to mars!" against a swelling backdrop of production. Kanye and Jay Z take turns killing their individual verses with unmistakable bravado, ending the song with eerie staccato reverbs from B. It's a great jumping point for the album as everything about 'Lift Off' works!
The LP released today, will soon be followed by a joint tour across North America. The tour will kick off October 29 in Atlanta, GA and end in Vancouver. Nearly 20 of the previously-announced dates were scrapped, leaving around 19 shows to go ahead. Listen to the track and sound off below.
'Lift Off'

FULL TRACKLISTING:
1. No Church In the Wild (feat. Frank Ocean)
2. Lift Off (feat. Beyonce)
3. N*ggas In Paris
4. Otis (feat. Otis Redding)
5. Gotta Have it
6. New Day
7. That's My Bitch
8. Welcome to the Jungle
9. Who's Gon Stop Me
10. Murder to Excellence
11. Made In America (feat. Frank Ocean)
12. Why I Love You (feat. Mr. Hudson)
DELUXE BONUS TRACKS
1. Illest Motherf*cker Alive
2. H.A.M
3. Primetime
4. The Joy (feat. Curtis Mayfield)
Buy the album HERE!