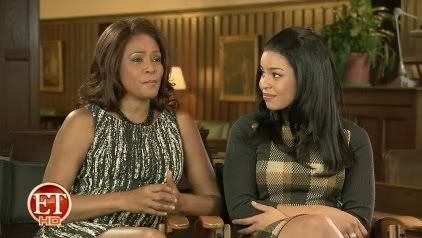 Legendary diva Whitney Houston and her young co-star Jordin Sparks sat down with Entertainment Tonight a few hours ago to discuss their forthcoming film 'Sparkle' – a remake of the famed 1976 musical.
Touted as Whitney's big screen/musical comeback, Whitney will want to prove she is still a force to be reckoned with. After all, this role is undoutedly a pretty big deal for the diva. It is her first starring role in over a decade and she contributed in executive-producing it. Jordin is also taking on a role that Aaliyah was preparing to play before her untimely death. Therefore, she will want to prove why she was the right choice for the role.
Film insiders are already saying Ms Houston is running the show, and in several months, anticipated fans will get the chance to see for themselves. Check out what she had to say in the 'Entertainment Tonight' exclusive after the jump.