Even though Mary J. Blige's new album is called 'My Life II: The Journey Continues (Act 1)', fans of the "No More Drama" diva know that her journey never really stopped. Staying true to her standard, drop an album and break for two years, MJB returns with a worthy sequel to her career defining album 'My Life' (1994). 'My Life II: The Journey Continues (Act 1)' is an old school R&B record at it's core, with trendy sprinkles of gritty Hip-Hop and Pop flourishes to add a modernized flare. As always Mary wears her emotions on the sleeve of her pantsuit, pouring her heart out over Hip-Hop/Soul productions courtesy of urban music's most elite producers (Darkchild, Danja, Rico Love).
What a bold move on Mary's part to title the album 'My Life', as it implies she's trying to recreate the magic of the original; however, that's not the case. 'My Life II' respects the legacy of the original and isn't audacious by trying to top 1994′s 'My Life', instead it's presented as a credible follow up to it's predecessor. As a stand alone body of work 'My Life II' is an impressive edition to Blige's catalogue.
See if the critics agree after the jump!
Random: One thing that has always struck me odd about Mary J. Blige was the contrast between her undeniable status as a 'Legend', yet lack of fandom compared to her peers. Mary has had a long career of respectable success but when people argue about singles, album sales, concert ticket sales, and worldwide impact somehow she gets lost in the shuffle among so many other female megastars. Why is that??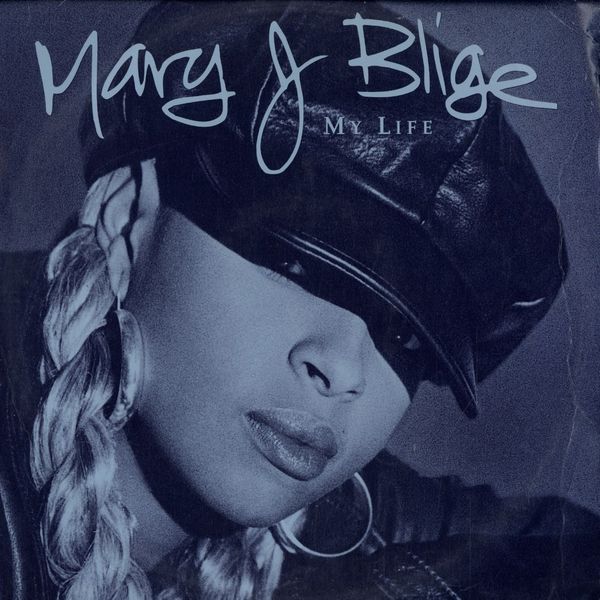 Slant Magazine (3/5 Stars):
"Mary J. Blige's latest installment of bass-heavy therapy (which feels like the cataloguing equivalent of her ever-present melisma), it takes a lot of salt to, decades after the fact, record a sequel to what is widely considered one of the most groundbreaking R&B albums of the 1990s, one which helped foster the merging of hip-hop and soul. My Life II…The Journey Continues (Act 1) feels like a corrective, one which intends to restore soul back to prominence. It's a drive reflected in the disc's organizational flow, which begins with the hardest tracks and works its way down in BPM, dynamics, and overall production. Is the album a worthy successor to My Life? Not remotely, despite being a listenable chapter in Blige's ongoing Remembrance of Joints Past. In function, My Life II is Blige flashing the chinks in her armor like a badge of honor, compared to My Life's messy but vibrant force of sheer existence. Maybe she really did need Diddy's help this time around."
USA Today (3 Stars):
"Blige's lithe, tart vocals are best served without the adult-contemporary polish that over-smooths many tracks here. The more memorable tunes nonetheless emphasize her native grit: the pining Feel Inside, featuring Nas, or the playful Next Level, on which she coolly warms to Busta Rhymes' funny, funky advances. The standard edition concludes with The Living Proof, an account of transcending troubles that Blige belts out of the park. "I got a few scars that's showin'/But I'm (going to) stay strong, keep growing," she sings. Even if Life II doesn't meet the tough standard set by its predecessor, it offers no reason to doubt her."
"Blige explains that "My Life II" is not meant to eclipse "My Life" but rather to serve as "a sequel," documenting how she has gradually learned to cope better with life's ups and downs. But navigating life's adversities in a healthy, mature way doesn't exactly sound like the blueprint for a phenomenal R&B album, let alone one meant to be a follow-up to one of the most emotionally wrenching, honest R&B albums of the past couple of decades. As a sequel to "My Life," "My Life II" may disappoint fans, for no reason other than that Blige is no longer a troubled 20-something willing to lay out her struggles for the world to hear. But viewed as just the latest Mary J. Blige project, it's a solid album filled with small touches that will recall '90s-era Blige. Nearly 20 years after her breakout sophomore album, it's nice to see that no one, not even Queen B, has been able to replace the Queen of Hip-Hop Soul."
"In recent years Blige has caught flak for not returning to the depths of despair that characterized her earlier works. Though Blige has enjoyed fairly positive reviews with each new CD, online reviews by fans show a growing dissatisfaction with Mary's healthier, happier self. On her new album, tracks such as "No Condition" and the Drake-assisted "Mr. Wrong" show a wiser Blige in much more control of her aching. Blige isn't trying to compete with "My Life II's" predecessor, a move that critics and hard-core fans might deem as sacrilege. "My Life II" isn't a Blige/Combs affair like its predecessor. But the album conjures the same new jack swing she ushered in on her debut, "What's the 411?," albeit with an updated groove courtesy of a younger generation of hip-hop beatmakers such as Rico Love, and Eric Hudson."
The Independent (UK) (3/5 Stars):
"The high priestess of emotional turmoil returns to her apparently turbulent personal life on this latest album, vacillating between obsessive devotion, self-assertive morale-boosting and the kind of masochistic abasement depicted in "Mr Wrong"."
"As deep from the pit of her heart as in "My Life," Mary J. Blige sings of the highs and lows of the new state of love and life the singer is in, healthier but still intertwined with harsh reality and heartbreak. With the blessing from her longtime friend, mentor and collaborator, Diddy — yet no collaboration with him on the album itself — MJB recruits close VIP friends ( Nas, Beyoncé, Busta Rhymes and more) to pen the blueprint to the second phase of her journey."
MusicOMH (4/4 Stars):
"My Life II…The Journey Continues (Act 1) is touted as a sequel to 1994's My Life album and, indeed, the album begins with an opening skit featuring Blige telephoning My Life producer P Diddy and asking him for his permission to record a sequel. My Life II… sees Blige in reflective mood; it is both a response to the past and a vision for the future. The sound is classic Mary J Blige with that stunning voice very much to the fore. There is a refreshing simplicity to the sound, a mix of smooth RnB, straight ahead hip hop and sumptuous ballads. It would be incredibly easy for Blige to feel the need to drastically update and reinvent her sound to compete with the likes of Rihanna et al but thankfully there is no sign of Red One or the dreaded David Guetta on this record."
"My Life II … The Journey Continues (Act 1)." Blige long ago promised "No More Drama," but it's drama she thrives on, and this sequel to her 1994 album is no exception. Guests include Nas, Drake, Beyonce, Busta Rhymes and Rick Ross, but Blige is indisputably the star: she sounds confident and in control on songs that are tightly constructed and catchy."
Did you buy the album? What were your thoughts?