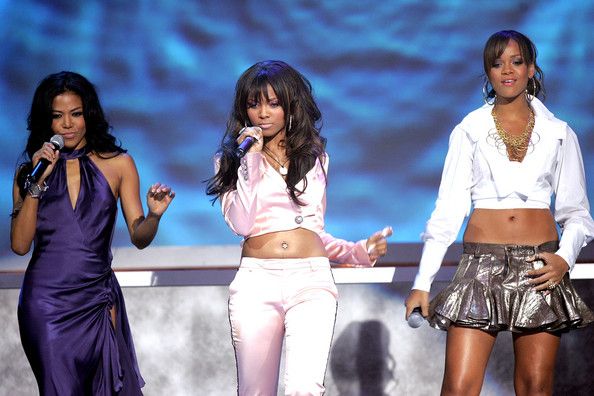 The scene? The 2005 World Music Awards. The moment? Celebrating the world's best selling female group of all time, the Beyonce lead Destiny's Child. The three vixens-in-training called to task to tribute the iconic R&B/Pop trio? Ameriie—R&B's newest flavor of the month, Rihanna—the Barbadian dancehall siren, and street lolita Teairra Mari; the latter were both signed to Def Jam by Jay Z in the previous year. The results? Truly memorable.
Relive the exciting spectacle below!
With Teairra Mari leading as "Beyonce", Ms. Fenty holding her own as "Kelly", and Ameriie closing out the bridge as "Michelle", it was a glowing showcase for all three novice Pop Stars. Singing live to a backing track of Destiny's Child's original backgrounds, Ameriie was clearly the stand out when it came to live vocals, with Teairra trailing close behind. Rihanna on the other hand sounded like the last place winner at a local singing-talent competition with her weak, nasally vocals. It just goes to show the tremendous improvement Ms. Fenty has displayed over the years. She's grown leaps and bounds both as a performer and as a live singer, just look at how she worked that stage! If 'past Rihanna' could have a girlfriend-to-girlfriend conversation with 'present Rihanna', I'd hope she'd tell her to "keep the 'moves' in the act". If current Rihanna had continued developing the spark of potential she showed while performing "Lose My Breath" she'd finally find the perfect balance of splendiferous mediocrity as an entertainer….which is a tall flight of stairs up from where she is now.
While Rihanna's success has gone on to mirror the success of the trio she was tributing (in terms of accomplishments and acclaim), the same cannot be said for both Ameriie and Teairra. Following this performance, Ameriie was never able to recapture the heights of her #1 hit "1 Thing", and after a series of underperforming releases she faded from the public's consciousness. The "Take Control" singer decided to take control by going overseas to become an experimental pop artist. She added a vowel to her name, bleached her hair, made up a musical genre to drum up interest and still nobody cared. Not for lack of trying though, Ameriie is a fighter—"the Mya of the 00′s"—and isn't giving up.
Teairra's occupational outlook proved to be the bleakest of the three. After disappointing album sales and a failure to generate figures close to Rihanna's, she was let go from her recording contract in the middle of producing her follow up LP. In 2008, she returned to music via Warner Bros. Records, with the Pleasure P-assisted single "Hunt 4 U". As Teairra's new image upped the "raunchy" factor, the quality of her music took a sharp decline. Since 2010, she has released several mixtapes and an EP entitled 'Sincerely Yours', hoping to build anticipation for her upcoming album due later this year. The album, which has yet to be titled, will be released under writer/producer Rico Love's record label Division 1 [...] with Universal Motown. Is the tide beginning to turn for Mari? That has yet to be seen but it is definitely a step in the right direction—being signed is better than not being signed.
Hopefully 2012 will bring great accomplishments to all three as each woman is uniquely talented in her own way, current Billboard spot or not. I hope to see Ameriie expertly develop her niche as a Neo-Pop artist and come back bigger and better than ever. And I wish Teairra huge ratings in her next venture as the star of VH1's Love & Hip-Hop: Miami (coming soon), as well as a Top 10 urban radio hit this year! Good stuff!