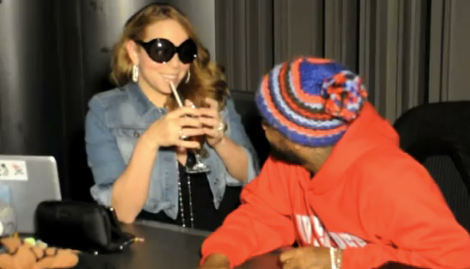 Mariah Carey, looking youthful and well rested, joins Jermaine Dupri in the latest installment of his YouTube series, 'Living the Life (LTL)' live from the studio this morning at 7am. The diva is up to her old tricks this time around (i.e. 'Mimi'), and thats a good thing! Sticking to her guns and giving the fans what they want Mariah Carey has hired her favorite producers including Randy Jackson, Big Jim Wright, JD, and DJ Clue to help steamroll this project straight to the top. Can she do it? No doubt, Mariah is always at her best when she's counted out—and like Adele and Beyonce have proven, talent always outweighs a fad.
Check out the songwriter of Billboard's Song of the Decade getting ready to lay down those big vocals she known for after the jump and sound off below!
What does Mariah Carey need to do to ensure both a critically and commercially successful album in 2012?
Stay far away from

Terius 'The Nightmare' Nash

.
Incorporate the fresh Pop of her earlier days (

'Dreamlover'

,

'Heartbreaker'

) into her R&B offerings in order to not pigeonhole herself in the finger-snapping, snare drum R&B that bogged down

'Memoirs'

. No one sings classic Roller Skating Rink Pop better than MC.
Focus more on vocal melodies rather than rhythmic melodies that forces her 5 octave voice into a tight box; glide atop the melody, don't just sing through it.
If you're going to go Hip-Hop, make sure it's the lush, sophisticated, grown & sexy Hip Hop like

'The Roof'

and/or

'Ribbon'

, leave offerings like 'Heat' and 'Up Out My Face' to the kids.
Lay off the whispering, sing full out and confidently ('When Christmas Comes')—it doesn't have to be perfect but there needs to be a [vocal] reminder throughout the entire LP of why Mariah Carey is 'The Voice'.
Get back into the heavy vocal production reminiscent of 'Babydoll', 'Crybaby' and 'Breakdown' that would use two to three vocal tracks stacked atop each other singing different lines—the effect became a Mariah staple, however, for unknown reasons it died off post 'Charmbracelet' era.
Keep the guest features down to a minimum, quality over quantity.
Sing live, promote like mad, and enjoy it because in all honesty Mrs. Carey-Cannon has nothing left to prove.