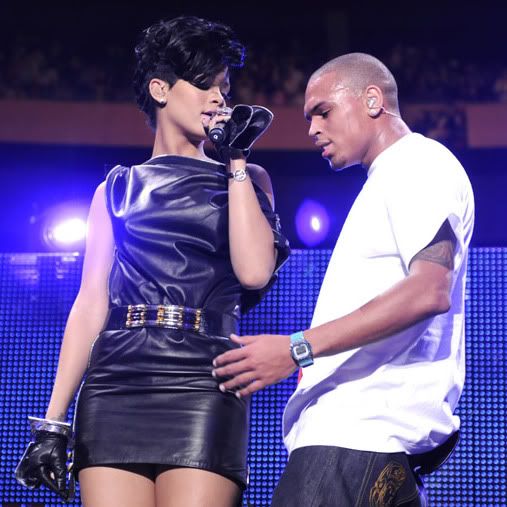 People are still talking about the controversial Rihanna and Chris Brown collaborations. People want answers. Questions that linger include: Why would she work with an ex that nearly beat her an inch of her life? Why would she turn her back on her stand against domestic violence? Only she can answer that one, but these two jumping on a track together bear no effect on my life. I would never use celebs to serve as role models for my kids anyway (I'll do that myself thank you).

If anything I was just shocked that she was ballsy enough to do it. And I think Rihanna is rebelling because her team put pressure on her to give up on a man she was clearly still in love with. They told her, you can't be with him and keep your career. You can come out of this being the hero or you can can come out of this being a disappointment to your fans. Hesitantly, Rihanna chose her career, dumped the man she loved and during promotion of her 'Rated R' LP, became the global ambassador for the fight against domestic violence. Fast forward three years and Rihanna has brought back that very ex into her socialising domain, as well as her professional work platform. But why?
The-Dream has spoken to Boombox and Billboard about the controversial Rihanna and Chris Brown collaborations. The singer shocked and disgusted many an audience this week when she commemorated her 24th birthday by unveiling her 'Birthday Cake' remix, featuring her ex. Breezy simultaneously released his 'Turn Up The Music' remix featuring Rihanna. Dream, who produced 'Birthday Cake' alongside beatmakers Da Internz, says that if she can forgive her ex, those around her should support her decision too. So, here are a few things from the interviews that might give you a bit of clarity.
1. The-Dream emphasises that Rihanna fans should accept her collaboration with Chris as a positive example of forgiveness. "I think [the topic] that should be more on the tongues is: how do we proclaim to be a nation of forgiving, and we go by all of these rules and everything, but we can't actually do it?" he says.
2. It was Rihanna's idea to collaborate with Chris. Her words were: "I think I want to put Chris Brown on the record". The-Dream supported and they got down to it. "I don't know how she got the logistics and how it happened – maybe she'll talk about it one day" he says.
3. He pinpoints that it's just composition at the end of the day. "For me, it's just music — two talented people doing a record together, doing two records together, and that's what it was".
As Rihanna would say, "this is not the alter!" So, after much criticism and debate, Rihanna went ahead and collaborated with her ex and knew eyebrows would be raised. Surprisingly, the reaction to the remixes have been so positive, both of their labels (RCA and Island Def Jam) are said to be working together to give the songs official releases on iTunes and radio. This week, Breezy's 'Turn Up the Music' debuted high on the Billboard Hot 100 after securing a #10 chart position.
Extras:
1. Rihanna & Chris Brown's Remixes: Critics weigh in.
2. Expert weighs in on Rihanna & Chris Brown's Remixes.