Style icon Solange has snagged two new photoshoots with the 'London Evening Standard' and 'Time Out New York' magazine.
The 25-year-old sister of Beyonce has gained much notoriety for her bold fashion choices, and spoke to both publications about her style secrets, as well as the sound of her third studio album and its record label status (independent). Solange says she's been working on the follow-up to the critically acclaimed 'Solangel and the Hadley Street Dreams' for two years. More excitingly, she gives us a vague release date. Peep quotes, footage and both photoshoots below.

Quotes and photos, from 'London Evening Standard':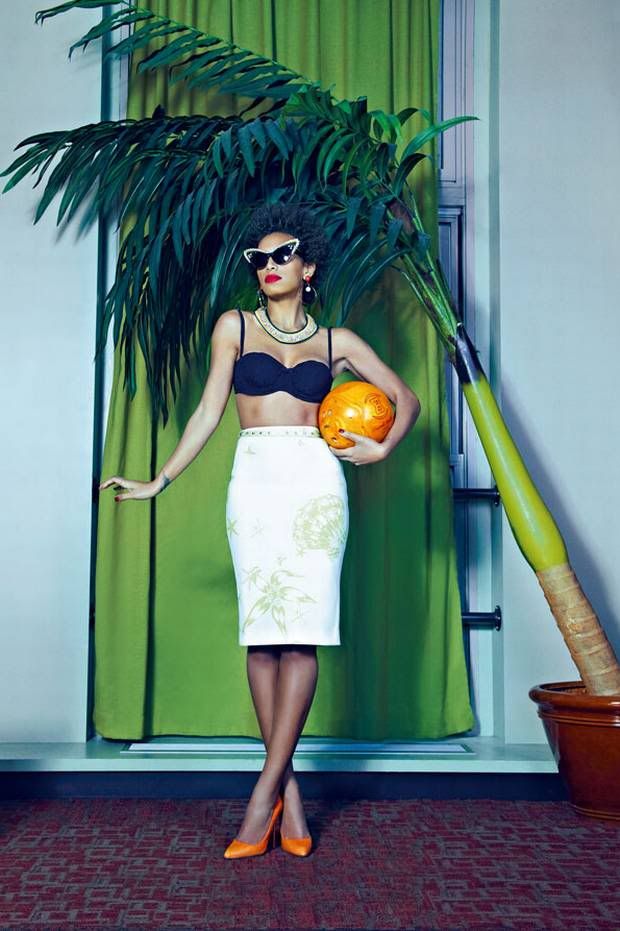 When asked why she wasn't signed to a major label, Solange says:
"I don't think there's a need if you are able to fund it yourself and have a strong sense of development as an artist. It means you aren't dependent on some A&R dude to position you with writers or producers or figure out your next direction".
So what can we expect from the new album?
"There's a lot of sexual vibes on it. I think I just finally started having good sex. This woman came up to me the other day and said, 'You know, I think people dress a lot better when they're in love with themselves, with other people, or with where their life is'". Read more.
Quotes, behind the scenes footage and photos, from 'Time Out New York':
What are you working on now?
I've been working on my album for two years. It's my first independent record and it's been a journey. It will be out this summer.
How is it different from your last album?
It's very sensual, very percussive and the songwriting is a lot more complex than my previous music. It's inspired by '80s R&B, pop and soul. Pop has become a term of cheese now, of selling out, but it was never like that in the past. Right now it just seems like a trend is so important—people find a formula of what's working and what's successful, and they try to re-create it, or a variation of that. You turn on the radio, and it's like 60 minutes of one song. I hope 25 years from now, my son can look at the pop stars [of today] and have that same feeling that I have when I listen to Whitney Houston or Mariah Carey records, and experience that timelessness of just good songs. Those artists have something so utterly unique and amazing about themselves, their voices or their styles: It's musical integrity. Read more.
Work!!!!!!!!!!!