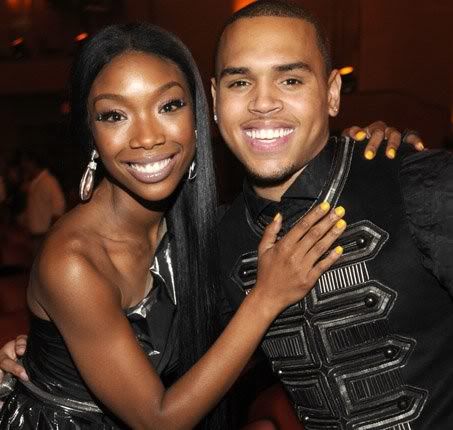 Brandy obviously wants a hit on the Billboard Hot 100. For the singer has enlisted the uber popular Chris Brown to feature on her brand new lead single 'Put It Down'.
The Bangladesh-produced cut is written by Sean Garrett and will see Chris combining his singing and rapping abilities. Brandy's duet with Monica on 'It All Belongs to Me', failed to snag a position on the Billboard Hot 100. As a result, it's clear Brandy does not want such circumstances to repeat itself with her forthcoming new album 'Two Eleven'. The track will hit radio in two weeks time which should coincide nicely with the premiere of her Vh1 'Behind the Music' special. Brandy confirmed this exciting news during an interview with True Exclusives. Last November, Garrett CONFIRMED that Brandy's lead single will feature a mystery collaborator and that the project will have a hip-hop element to it.

"What I can tell you is that it's hot. It's definitely something you have never heard—you probably haven't heard Brandy over a track like this. It's very commercial, but at the same time, it's got a dope hip-hop influence—it's club, it's radio, it's all formats" he said back then.
Wow, it seems like this was planned for a very good while. And I'm very excited the track will be urban. Bring.it.on. Brandy will release 'Two Eleven' on RCA/Chameleon Records later this year.