Christina Aguilera is back and wants us to believe she's better than ever! Following a very public divorce, a flop debut film, a flop album, and a series of flop-tastic public appearances consisting of a DUI arrest, flubbing the lyrics to the 'National Anthem' live, and that infamous red fluid that flowed down her leg at Etta James' funeral—to say that the past two years have been a struggle for the former Mouseketeer would be putting it mildly. Much like her runs, both Aguilera's personal and professional lives have hit a series of bum notes, however, 'Lotus' seems intent to present the veteran Pop Star in a new light. A light which makes it clear she's eager to put the past behind her and claw her way back to the top.
Similar to one of her earlier idols, Madonna, Christina's music is ever evolving. From the Bubblegum Pop of her debut, to the raw R&B of 'Stripped', and all the way to the icy Electro-Pop of 'Bionic', Aguilera is without question one of the most versatile singers of her generation, second only to Beyonce, so it's no wonder why this LP is one of the most anticipated releases of the year!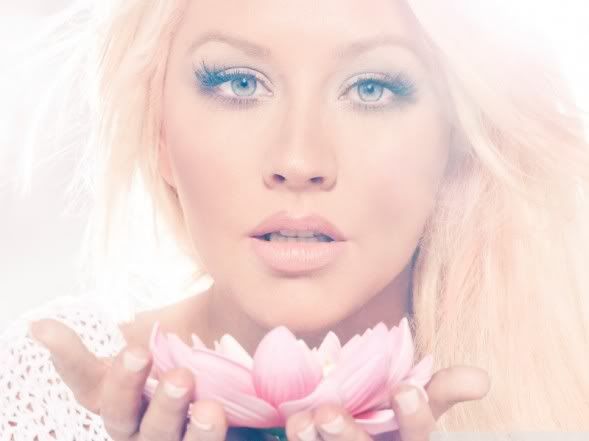 Read Mikey's full track-by-track review of 'Lotus' after the jump and sound-off below!
1. 'Lotus Intro' – 'Lotus Intro' opens with a lush choir of cascading harmonies until blooming into an buzzing, auto-tuned vocal from Christina  who sings, "Songbird, rebirth, unearth creature submerge from hurt pain, broken pieces." Aguilera's transparent intention of starting over is overwhelmingly clear as she uses the iconic lotus flower to symbolize new life. The track is ethereal, yet relatable in its tale of hardships and embracing new beginnings—a great opener to Aguilera's long-awaited fifth studio album.
Noteworthy lyric: "Rise up lotus, rise, this is the beginning,"
4/5
2. 'Army of Me' – 'Amy of Me' finds Aguilera in her vocal comfort zone of excessive chest belts with noticeable strain, however, in this case, it works! 'Army of Me' comes off as a first-cousin to 'Fighter' in both their aggressive cadence and lyrics of prevailing in the face of opposition. Unfortunately, the song overall disappoints because it feels like we've heard it before time and time again…oh wait, we have, it's called 'FIGHTER'!
Noteworthy lyric: "One of me is wiser, one of me is stronger, one of me is a fighter,"
3.5/5
3. 'Red Hot Kinda Love' – Christina finally hits her stride with this Secon produced number that deserves immediate placement atop every Pop chart across Billboard. 'Red Hot Kinda Love' is shamelessly catered towards Pop radio but it's okay because the track is genuinely a great song packed with flirty vocals, bouncy production, and a relentless melody that sticks with you long after the song is over.
Noteworthy lyric: "Feeling like fifteen again/No I won't lie,"
4/5
4. 'Make the World Move' feat. Cee Lo Green – 'Make the World Move' is an uptempo dance track that's meant to both uplift and make the world move with its inspirational lyrics and bubbly production. It's not the LP's best track, but it's certainly the most earnest and eclectic. Good stuff!
Noteworthy lyric: "If one smile could erase a frown/Imagine what two could do,"
4/5
5. 'Your Body' – Ok, so when 'Your Body' first debuted I wasn't sure why it was chosen as the album's lead single. Sure, it's hook is catchier than the flu and its melody is simple enough for a toddler to remember, but it was missing that particular je ne sais quoi generally associated with a first single. However, after listening to 'Lotus' in its entirety, it's obvious that 'Your Body' is one of the LP's best songs and a clear stand-out. Max Martin has done it yet again by pairing Aguilera's illustrious pipes with his stomp-and-start production marking a marriage made in Pop heaven.
Noteworthy lyric: "So don't even tell me your name/All I need to know is whose place/And let's get walkin',"
5/5
6. 'Let There Be Love' – Let's get the elephant in the room out of the way first, shall we? Produced by Max Martin, 'Let There Be Love' sounds exactly like Usher's 'OMG', Cobra Starships 'You Make Me Feel', and just about anything produced by David Guetta all at the same damn time. On the upside, Christina knocks it out of the park and shows the world just how effortlessly she can transform a generic Pop song into a heart-pounding club anthem with her earth-shattering voice and arrogant delivery!
Noteworthy lyric: "Hit the right spot/Make my eyes roll back"
4/5
7. 'Sing For Me' – Stand back, Christina is about to unleash the beast—that voice! 'Sing For Me' is this former genie's answer to the haters who say she cannot sing and excessively adorns her songs with overindulgent riffs and runs. "Because when I open my mouth my whole heart comes out," she confesses with palpable passion and sincerity. Besides the stratosphere-piercing vocals and vulnerable lyrics, I loved how raw Aguilera allowed herself to be. She's well aware of the public's perception of her as the "over-singing Queen of Mean forever stuck in Britney's shadow", however, that has not stopped her one bit from being who she is and doing what she wants—for that, I applaud Miss Aguilera.
Noteworthy lyric: "I don't even care what the world thinks about how I sound,"
4/5
8. 'Blank Page' – When all us fails, put Christina on an emotive torch ballad and let her voice do all the talking—and that's exactly what producer Braide and songwriter Sia did for 'Blank Page'. For the most part, Aguilera sounds raw, pure, and undeniably soulful as she keeps her big voice in check by showing signs of skilled restraint many have been begging her to implore for years. Easily the LP's best vocal. Still, they don't call her Shoutina for nothing, when she gets to the climax do your ears a favor and turn the volume down.
Noteworthy lyric: "Lord knows I've been no saint/In my own way, regret choices I've made/How do I say I'm sorry?"
3/5
9. 'Cease Fire' – 'Cease Fire' is a sonic clash of R&B, Dub-Step, and Electro-Pop, unfortunately as a whole it comes up short compared to the sum of its parts.  I can't help but think that someone like Rihanna would have been much better suited for Alex da Kid's metallic production and more convincing than Aguilera as the leader of an army of heartbroken women.
Noteworthy lyric: "Rolling out/White flag I surrender/Screaming out/Make it stop,"
3.5/5
10. 'Around the World' – To be honest, by this point in the album Aguilera's throaty chest belts and poor technique have not only become tiresome but downright exhausting to listen to. Right from the song's opening "Uh-oh, oh, oh, oh!"'s the songbird sounds painfully strained and hoarse. While the song does the trick of giving 'Lotus' another contender as a potential future single, the new unpleasant texture of Aguilera's poorly trained voice have never been so nakedly apparent.
Noteworthy lyric: "We can talk dirty in different language: 'Voulez-vous coucher avec moi ce soir'"
3/5
11. 'Circles' – 'Circles' starts off with a drunken refrain of "Spin around in circles on my middle finger," before changing into a faux-rapped reggae rhythm throughout the verses, and then finally blossoming into a full-blown rock song by the chorus! Definitely the bossiest song found on the LP as Aguilera is taking no prisoners this time around telling her haters to "fuck off" while she continues to remain unfazed and unbothered. Although she has many, 'Circles' is the best kiss my ass song Xtina has ever recorded.
Noteworthy lyric: "Use my name as your claim to fame/Got my seal of success,"
4/5
12. 'Best of Me' – 'Best of Me' is a drippy piano laced ballad which finds Aguilera finally ready to shed the negative energy that plagued the last couple of years of her life and start anew—seeing a pattern here folks? Vocals aside, Aggy is beginning to sound stale by constantly singing about being a "fighter" and staying "strong"—we get it, you've been figuratively beaten and battered by the media for years, but so has all of your peers hun, so get over it and move on.  Tepid, wholly uninspired, and just plain dull, 'Best of Me' will never get the best of me again by taking away 4:08 minutes of my life.
Noteworthy lyric: "No I won't let you bring me down!"
3/5
'Just a Fool' feat. Blake Shelton – Christina closes the album out with a duet with fellow 'The Voice' judge Blake Shelton called, 'Just a Fool'. Straining her voice to capacity, Aguilera's vocal comes off as far too powerful for what the song calls for as she disrespectfully blew Shelton out of the water on his own turf. To be honest, the laid-back country crooner never stood a chance to Aggy's full-throttled belts. Unlike her 'Moves Like Jagger' duet with Maroon 5 frontman Adam Levine, this collaboration was awkwardly uncomfortable and out of place. Better luck next time…
Noteworthy lyric: "I had my heart set on you/But nothing else hurts like you do,"
2/5
Bottom Line
******************************************************************************************************
'Lotus' is far more ambitious than what it will actually be able to accomplish. Set up as a comeback album from Christina's ill received and universally panned  'Bionic' LP and Burlesque film of 2010, not to mention her recent personal struggles with weight, 'Lotus' was intended to wash away the last two years and reposition Aguilera as a contemporary Pop Star able to complete with the likes of Lady Gaga, Rihanna, and Katy Perry.  Sadly the 'Your Body' warbler missed the mark as much of 'Lotus' is instantly forgettable and only emphasis the damage that years of terrible technique and vocal placement has done to her vocal chords.
As far as the album itself, there's nothing striking or overtly iconic about the LP or even this era as a whole. It would be wise for Christina to maintain her role on 'The Voice' as her star as a Pop music's leading vocalists no longer shines as bright and we see no signs of a jump-start in its luminosity anytime soon.
Overall score: 3/5