Ciara performed a recent Myspace-hosted concert at the Key Club in West Hollywood (Myspace huh? Why does that word sound so freaking foreign?). Anyway, Epic label head LA Reid was in attendance and Ciara aimed to impress, which she did.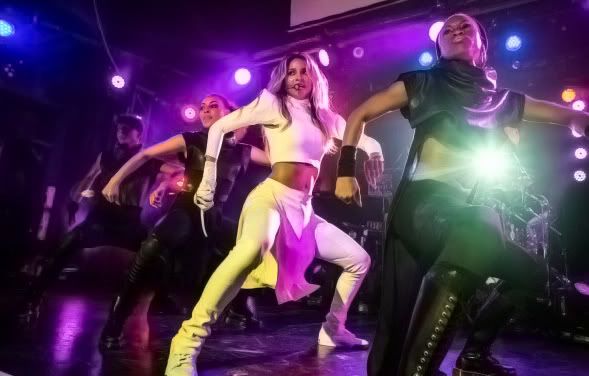 The showcase started with a video projection of dancentric scenes from previous music visuals. Shortly after, she dazzled the stage performing old hits ('Ride', 'Promise', '1,2, Step' and 'Get Up' to name the few), as well as new songs from her forthcoming new album 'One Woman Army.'
The showcase was everything you'd expect from a Ciara concert. It was very high octane and she engaged her audience really well with her sizzling moves and signature pop-locking. It seemed like she was holding back a bit with the dancing because she was singing live but it was still a very energetic show.
Would I actually spend money to see her in concert? You'd probably have to pay for my ticket first but I wouldn't say no. My answer would probably have been different if she gave us fierce performances she does for TV as opposed to the sleep dancing she does at her concerts (as I said, she was clearly holding back with the choreography).
But in all honesty, Ciara is probably the closest thing you would get to a Janet Jackson if you missed such an iconic legacy (or if you were born in the mid to late 90s). Meanwhile, Ciara's 'One Woman Army' album has been pushed back to next year.