R&B songbirds Keyshia Cole and Ashanti performed for fans at the Best Buy Theater in New York City. The latter was promoting her new album 'Woman to Woman', which was released in stores this week. They performed the title track for the very first time.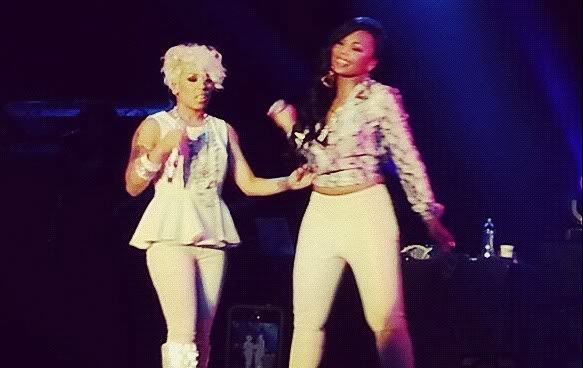 Crowds cheered as Ashanti took to the stage to have her little heart to heart with Keyshia over a cheating man. The girls even play out the conversation during the performance, even hugging it out at the end.
Given that Ashanti pushed back her new album 'Braveheart' to next year (and possibly the year after), she seemed more than thrilled to help her fellow R&B sista out on the promotional tip. Plans to release 'Braveheart' fell through this year after multiple singles failed to make an impact. As for this performance…
Both ladies sang their hearts out, giving raw powerful vocals as they go back and forth with one another. Other than the Soul Train Awards, there were no other television performances from Keyshia this era. Did she really think a reality show on its own could secure her those decent first week sales?
Maybe back in the day, but according to her first week predictions, definitely not now. Her new album 'Woman to Woman' is set to debut in the top 10 (just about) on the Billboard 200 with just 75k-85k (similar numbers to Christina Aguilera). That is almost half of the 128k copies that she sold in her opening week with her last LP 'Calling All Hearts' in 2010.
Oh dear.