Triumphant Frank Ocean was nominated for six Grammy Awards last night including all of the major categories, while 'Adorn' singer Miguel came close behind with five. Chris Brown bagged one too!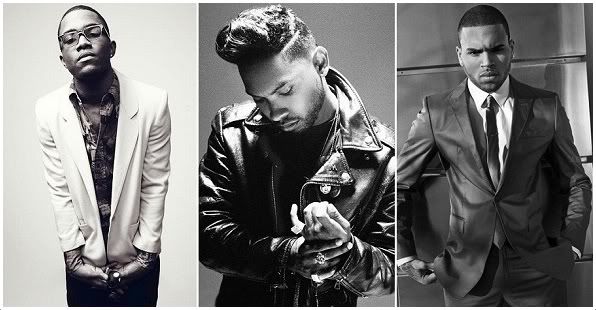 Ocean hit it big with latest album 'channel Orange' snagging Album of the Year, Record of the Year, Best New Artist, and Best Urban Contemporary Album. He is also nominated for Best Rap/Sung Collaboration and Best Short Form Music Video for 'No Church in the Wild' with Jay-Z and Kanye West. Ocean pretty much got the Grammy's in the bag and he will at least take one home.
Miguel released his sophomore album 'Kaleidoscope Dream' in October and managed to score a total of five nominations. Most of them stem from the hit singles 'Adorn' and 'Lotus Flower Bomb', the latter is a collaboration with Wale. He is nominated for Song of the Year, Best R&B Performance, Best R&B Song, Best Urban Contemporary Album and Best Rap Song.
Chris Brown will compete with both Ocean and Miguel for Best Urban Contemporary Album with 'Fortune.' Such a feat means that he has received a Grammy Award nomination for every album era of his career. Out of the three albums, I vote Miguel.
I think Miguel had a really solid album this year. Ocean had some nice music too and as talented as he is, I'm starting to realise just how overrated the album really is. The album's success had a lot to do with him publicly coming out and I don't think it would have done as well. Smart PR move. I'm still happy for him and hope he cleans up next year.
The 55th Grammy Awards takes place on February 10th in Los Angeles.