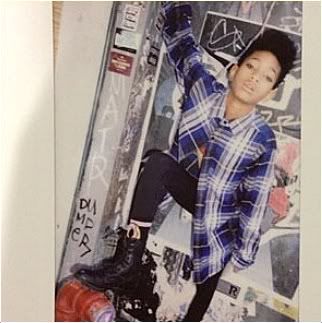 So, we're going to pretend that
Willow Smith
really isn't a one hit wonder and that her parents finally came to reason and decided she should grow up first before pursuing a proper music career. Wise decision I'd say. So now that there are no immediate plans for her to drop her
Roc Nation
debut, she's taken to releasing new music though her
Soundcloud
account.
'Sugar & Spice'
sees the 12-year-old making requests for her soul to be "injected with darkness" and uses a sample from
Radiohead
's
'Codex'
off their 2011 LP
'The King of Limbs'.
She addresses her fears, pre-teen angst and rebels against the world.
This of course, is coming from a girl who has yet to enter her teens, but had to face mass criticism for her eccentric fashion choices and colourful ever-changing hairstyles. Clearly, she's making a statement. The dark and haunting ballad is backed by a gloomy piano melody and it's a lot more mature than what we're use to hearing from her. Compare this to 'Whip My Hair' and it's like both tracks are from completely different artists! Give it a listen after the jump!

New Music