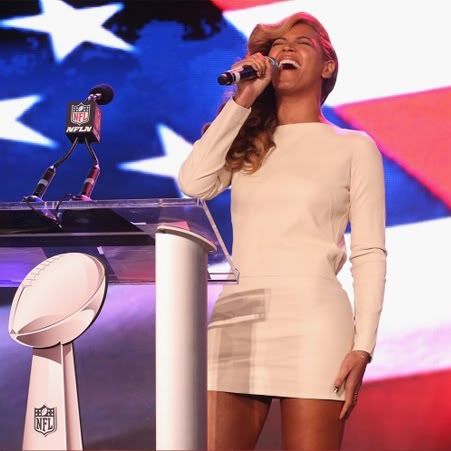 Earlier today, Beyoncé attended a Super Bowl press conference, where she belted out the National Anthem. And in shutting up the naysayers, she did it 100% live this time! Bey received major criticism for using a pre-recorded track during her 'Star Spangled Banner' performance at the Presidential inauguration. She admitted to singing along to a pre-recorded track due to lack of preparation. But promises fans that she'll be giving 100% live vocals during her Super Bowl Halftime show this Sunday.
On her decision "to sing along with the pre-recorded track":
"I did not feel comfortable taking a risk," she said.
On whether she will sing live during Sunday's show:
"I will absolutely be singing live. I'm well rehearsed and I will be singing live. This is what I was born to do".
So now that she's finally addressed the issue and given us some closure, let's look forward to a really good show on Sunday. Until then, check out this video of Beyoncé performing the National Anthem and giving us 100% live vocals!