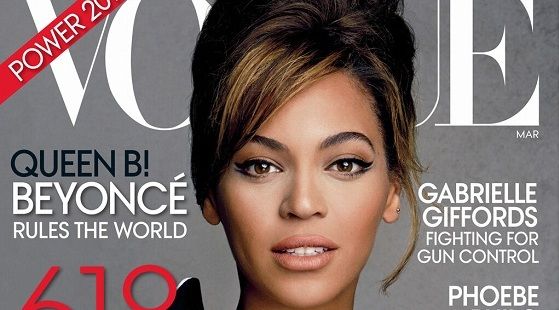 How gorge does Beyoncé look on the March 2013 cover of American VOGUE? Simple yet beautiful! She was photographed by Patrick Demarchelier and models a Givenchy design on the cover. Rocking the 'Power' issue, the fashion bible's tagline reads, "Beyonce rules the world." Judging by latest events, we can believe it! Past "power" cover subjects have included Lady Gaga, Adele, and Jennifer Hudson, so Queen B's in very good company! I've posted some miniscule info from the magazine about her upcoming new album and some behind the scenes footage from the shoot. The entire spread, and a look at the fashion is all enclosed below!
According to the article, Beyoncé is still "tinkering" with her upcoming new album. As of right now, it is in its "tweaking" stages and she says she "still has things to figure out". Check out some excerpts about the project below.
On the atmosphere of recording the album:
Beyoncé recorded much of her upcoming album (which she compares to a blend of her last album, 4, and 2008's I Am . . . Sasha Fierce) this past summer in New York's Hamptons, where collaborators included Timbaland, Justin Timberlake, and The-Dream, and the vibe was beachy and relaxed. "We had dinners with the producers every day, like a family," she says. "It was like a camp. Weekends off. You could go and jump in the pool and ride bikes . . . the ocean and grass and sunshine. . . . It was really a safe place."
On what the album represents:
Beyoncé says her new music "is a lot more sensual . . . empowering." It celebrates being a wife and a mother, reflecting the obvious changes in her life. "Right now, after giving birth, I really understand the power of my body," she says. "I just feel my body means something completely different. I feel a lot more confident about it. Even being heavier, thinner, whatever. I feel a lot more like a woman. More feminine, more sensual. And no shame."
Read the entire article here!
You can also go behind-the-scenes on Beyonce's stunning March 2013 cover shoot! Check out the action below!
In the spread below, she models a selection of stunning evening gowns. Beyonce rocks an Oscar de la Renta Resort 2013 gown and Alexander McQueen Spring 2013 T-Strap sandals (first photo in the third column). She  is also wearing a Givenchy Couture Fall 2011 dress (top column, middle photo)! In another shot, she is wearing Marni Spring 2013 top and Haider Ackermann striped pants (top column, last photo) and Rochas S/S 2013 bra with pantie and cape (Second column, first photo). Love the looks!