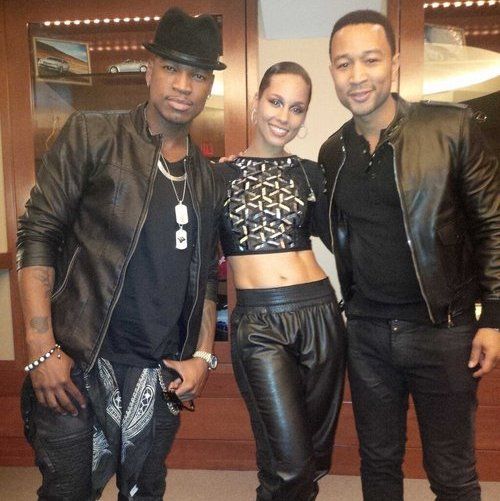 R&B plagued the NBA All-Star show last night when Alicia Keys, Ne-Yo & John Legend all took to the stage! Alicia performed 'Empire State of Mind (Part 2)', 'Girl on Fire' 'No One' and 'New Day'. It would seem AK is losing her voice from singing 'Girl On Fire' a little too much. The vocals were pretty shot and the performance could easily have been used in an advert to plug a cough medicine.
Meanwhile, John had the National Anthem sounding like a gospel service. It was like he was singing for every man that's felt pain and struggled. Those spiritual, preachy choir vocals oozed butter on a hot stack of pancakes. All hearty, warm and soulful!
Ne-Yo's limited vocal range was in full effect last night when he performed renditions of 'Let's Go', 'Let Me Love You' and 'Forever Now'. His vocal chords were so strained they were practically hanging off a cliff for dear life. Struggle moves and vocal notes like these were enough to make even Jesus weep.