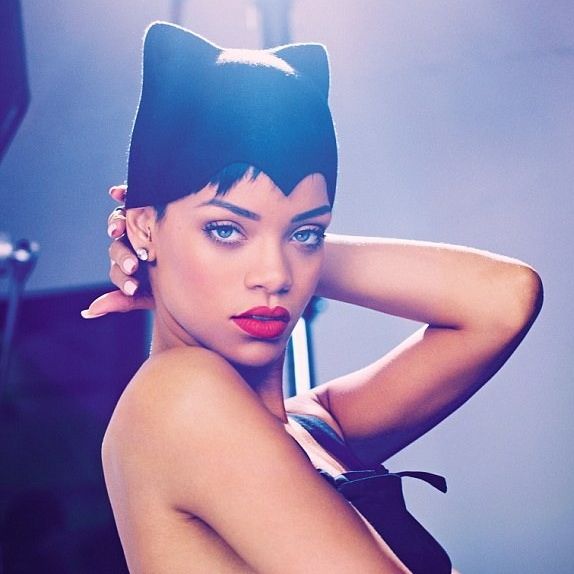 In April's Elle UK issue, Rihanna discusses her relationship with Chris Brown, and says that in five years she hopes to have a baby, as well as to be healthy and happy.
"Right now, that's just what we want, a great friendship, that's unbreakable. Now that we're adults we can do this right. We got a fresh start and we're thankful for that." In five years? "I will probably have a kid," but in the short term, she's just praying for a month-long vacation and a break from her hectic touring. Rihanna told Elle that her new single, 'Stay', is a story about true love and wanting it to last forever, and she now feels that way about Chris. Read on for more excerpts.
"You don't have that feeling with everybody so when you have it, you don't want to let go of it," Rihanna said. "I would definitely say he is the one I have that kind of relationship with."
Peep two more new images from the shoot below:
Rihanna talks about her controversial gun tattoo and what it means, which she simply describes as empowering.
"Everybody wanted to know what was happening in my life. Is she a drug addict? No. Is she an alcoholic? No. Is she a victim? No," Rihanna said. "That's why I got the gun. It was a symbol of strength. I'll never be a victim."
Rihanna's fetish for posting pictures of her life – and her body – online has been rife. She addresses that with:
"Well I Instagram everything about my life, whether it's smoking pot, in a strip club, reading a Bible verse – how crazy, I know – or hanging out with my best friend, who happens to be Chris."
Mama Fenty always puts her in the firing line whenever she feels the singer has gone too far with her antics:
"I'm not afraid of any person in this world but her. I'm terrified of her! She called me two days ago and reeled me in about two naked pictures Melissa put up on Instagram – a sneak-peek from a photo book she's making about me. My mom, she went crazy on me. I was like embarrassed. I felt like I got my ass whupped in front of my class in school! She said, 'This was like a private moment and you're just parading this around.' She humbled the f*** out of me.'"
Rihanna's full feature in the April issue of ELLE UK goes on sale 6th March 2013. You can also download it as a digital download here.