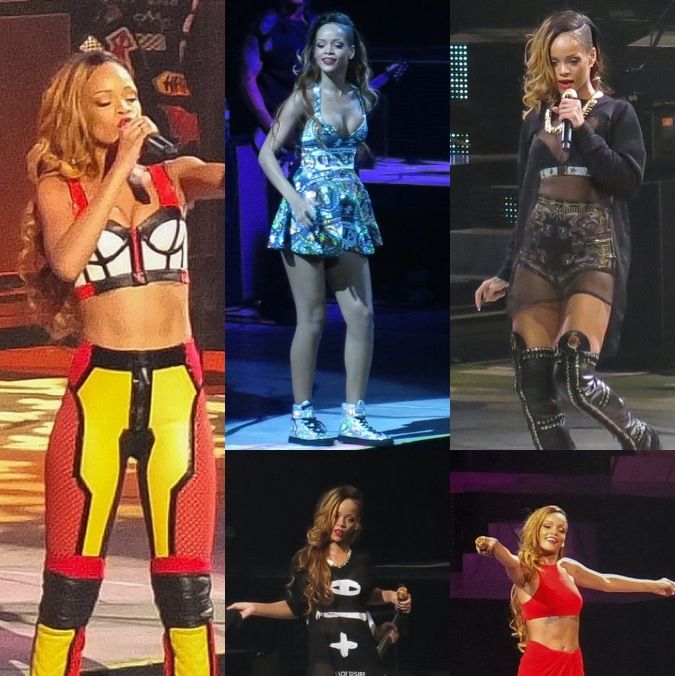 Last night saw Rihanna kick off the first night of her 'Diamonds' world tour during a a sold-out show in Buffalo, New York City.
Rihanna had a good crowd last night. I hope everyone that attended the show felt they got their money's worth. I attended a family birthday bash this week and asked all of my cousins if they were going to see Rihanna this summer. They all screwed up their faces (lol) and most of us expressed our excitement about attending 'The Mrs Carter Show'! Looking at some of the videos on Youtube shows I won't be missing out on much. The staging looked pretty and the vocals were really good, but the standard of dancing was just lazy to me.
As well as the awkward posture, she seemingly had a constant attack of crabs down below. The setlist was also odd too. 'Mother Nature' was a very poor choice to start off a pop concert, and 'We Found Love' should have been the main closer. Some of the songs were just unnecessary. 'Love the Way You Lie' and 'All of the Lights' were complete wasters and 'Cold Case Love' was just random as hell. I love the song (one of my favourites off 'Rated R') but this should have been replaced with 'Love Without Tragedy'. She performed several cuts from her latest album, while throwing in her most popular hits from past albums as well.
Rihanna wore six different outfits for each segment: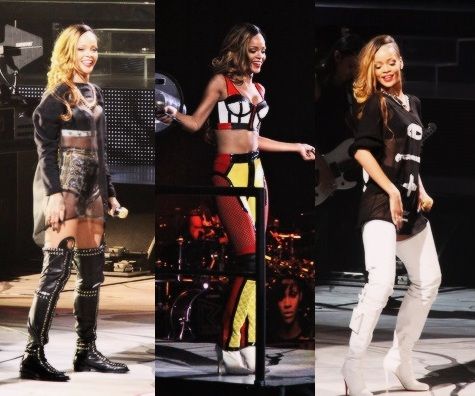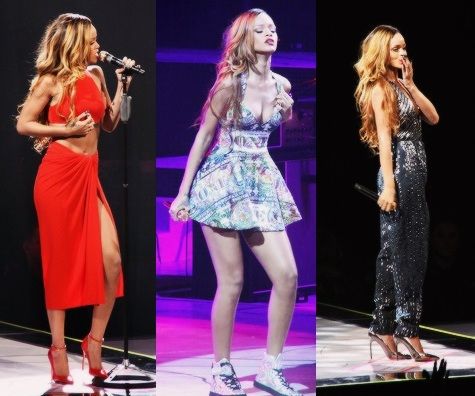 The outfits were not eye-catching at all. Was this a concert? Or an actual fashion show?!!?! Some of them could easily have been lifted from her River Island collection.
Edit: Her River Island collaborator, Adam Selman, helped design the outfits for the tour. Go figure! Check out some video footage below and the official 28-song setlist (for those attending the show). Rihanna will also be headlining this year's 'T In The Park' festival alongside fellow stars The Killers and Mumford & Sons.
(3 videos, 3 parts):

Act 1
01."Mother Mary"
02."Phresh Out The Runway"
03."Birthday Cake"
04."Talk That Talk"
05."Pour It Up"
06."Cockiness (Love It)"
07."Numb"
Act 2
08."Jump"
09."Umbrella"
10."All Of The Lights"
11."Rockstar 101″
12."What Now"
Act 3
13."Man Down"
14."No Love Allowed"
15."Rude Boy"
16."What's My Name?"
Act 4
17."Loveeeeeee Song"
18."Love The Way You Lie"
19."Take a Bow"
20."Cold Case Love"
21."Hate That I Love You"
Act 5
22."We Found Love"
23."S&M"
24."Only Girl (In The World)"
25."Don't Stop the Music"
26."Where Have You Been"
Encore
27."Stay"
28."Diamonds"