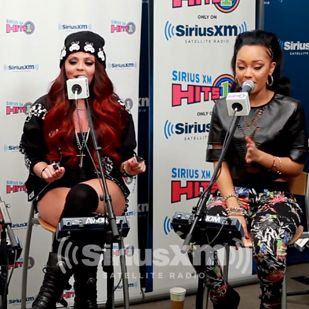 Reigning X Factor girl band Little Mix push their bid for global domination by performing a stripped down version of their smash single 'Wings' on SiriusXM Hits1.
Their male X Factor counterparts One Direction have been the rage last year and X Factor runner-up Cher Lloyd also enjoyed making waves. Little Mix are not the only girl band from the UK trying to crack the States. The Saturdays have been performing all over America having appeared on Wendy Williams and Jimmy Fallon. They also have a reality show airing in the States as well. But I don't think there's room for two UK girl groups to dominate the States.
It's bad enough that girl groups have become extinct in the States as a whole but if anyone can do it, it's them. I just hope they don't give up mid-campaign and they keep fighting for it. On that note, I always felt that Leigh Anne was the most inconsistent vocally (with Jade and Perry being on top most of the time but Leigh is seriously coming for their wigs!). However, I have to admit she sang her tail off. As of late, she's been slaying the acappella's and acoustic performances. I just love when they harmonise and switch up the melodies. Check out the action below!
The girls showcase their talent in hopes US audiences will catch on…